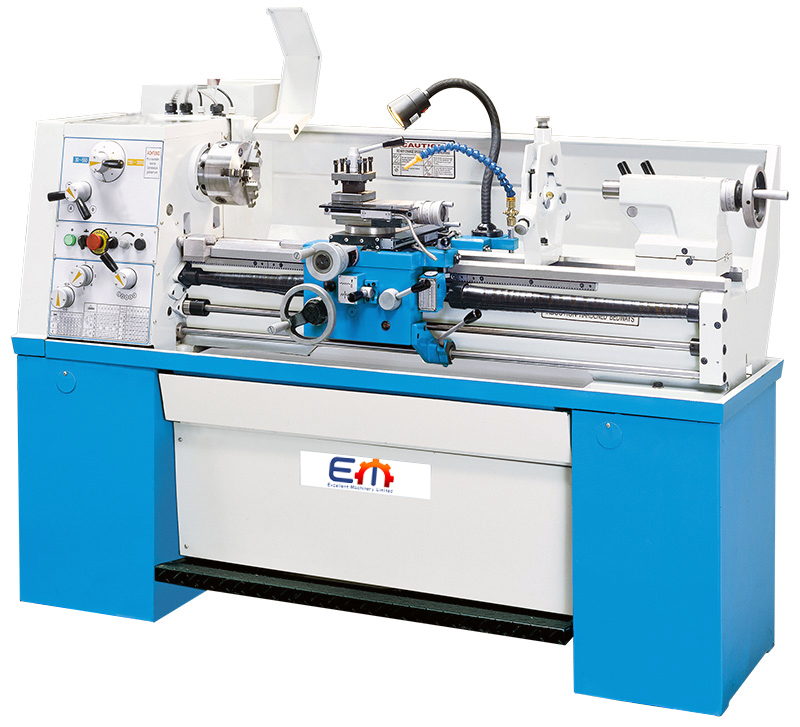 Feature:
Highlight of the Basic Series:
Cost-effective high-precision lathe with constant cutting speed: Vconst!
position indicator with speed display
speed up to 3000 min -1
constant cutting speed
i nfinitely variable spindle speed on 2 gear levels
main motor rating 4 kW
including 3-axis position indicator, fully assembled
cast-iron bed, heavily ribbed
all box ways are induction-hardened and precision-ground
headstock with D1-4′ mount, bore diam. 38 mm, run in 2 adjustable tapered roller bearings
all gears are made of Cr-Ni steel, hardened, precision-ground, with oil-bath lubrication
tailstock can be moved ± 5 mm for taper turning
guides are adjustable via tapered gibs
test certificate in accordance with DIN
Speed adapts to the part radius – constant speed ensures uniform quality finish at any diameter.
Basic 180 V – Mechanics Lathe
working area
workpiece length (max.)
1000 mm
turning diameter over bed (max.)
356 mm
turning diameter over support (max.)
220 mm
turning diameter over gap bridge (max.)
506 mm
travel X-axis
178 mm
travel Z1-axis
92 mm
gap bridge length
206 mm
bed width
206 mm
swing range of top slide
± 50 °
headstock
speed range, high
155 – 3000 rpm
speed range, low
45 – 1800 rpm
spindle bore
38 mm
spindle mount
Camlock D1-4
spindle taper
MT 5
feed
feed X-axis
0,015 – 0,22 mm/R
feed Z-axis
0,043 – 0,653 mm/R
tapping
tapping, metric
(37) 0,4-7 mm
tapping, whitworth
(28) 4-56 GPZ
tailstock
tailstock quill diameter
45 mm
tailstock taper
MT 3
tailstock quill stroke
120 mm
tailstock traverse adjustment
± 10 mm / ± 0,5″
drive capacity
motor rating main drive
4 kW
supply voltage
400 V
measures and weights
overall dimensions
1945x785x1204 mm
weight
880 kg
,