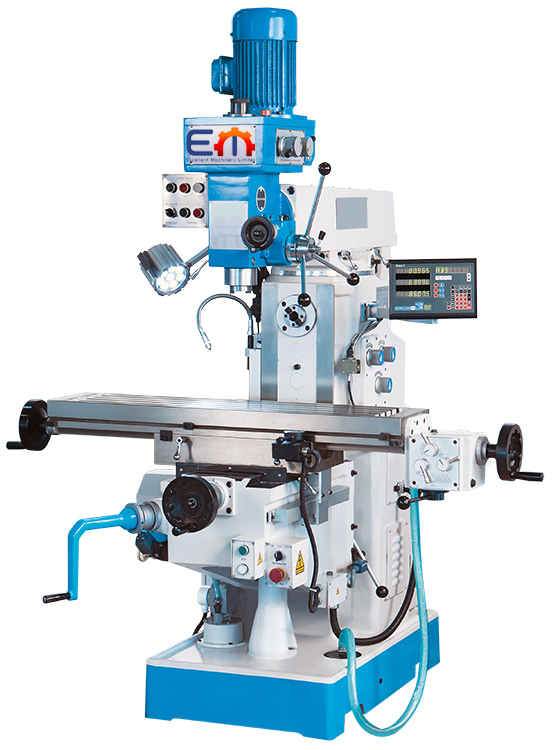 Feature:
VHF – ideal series for mechanic workshops, training, single part and replacement part manufacturing and prototyping.
This excellent price/performance ratio is made possible by high volume production with standardized VHF assemblies
height adjustment of the work table via automatic feed – precision feed via smooth hand crank
All 3 axes are provided with clamping devices
the vertical head swivels to both sides (± 90°), quill feed through capstan or with fine feed hand wheel
the installed feed (standard equipment) allows movement of the X-axis by hand wheel or through the feed feature
for horizontal spindle work, the top beam can be turned with; the head by ± 180° on the stand. Spindle speed is controlled through the gear lever.
VHF 2 – Universal Milling Machine
cutting capacity
drilling capacity
30 mm
milling diameter in steel (max.)
25 mm
tapping capacity, steel
M 16
counter-boring capacity
100 mm
working area
travel X-axis
600 mm
travel Y-axis
270 mm
travel Z-axis
300 mm
table set up area
1120×280 mm
vertical milling head
spindle speed (vertical)
(8) 115 – 1750 rpm
spindle mount (vertical)
SK 40
quill stroke
120 mm
throat
160 – 610 mm
spindle nose-to-table surface distance
60 – 360 mm
horizontal milling head
spindle speed (horizontal)
(12) 40 – 1300 rpm
horizontal spindle-to-table surface distance
0 – 300 mm
drive capacity
motor rating horizontal spindle
2,2 kW
motor rating vertical spindle
1,5 kW
measures and weights
overall dimensions
1710x1480x2100 mm
weight
1400 kg
,